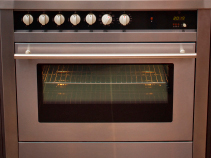 Whether it's Thanksgiving dinner or Monday Night Meatloaf, you rely on your oven for all your home-cooked meals. East Valley residents know that they can rely on AABCO Service Appliance Repair to come to their rescue and get their oven working again – just in time for a slice of Mom's apple pie. If you've got a problem with your oven, our skilled technicians will diagnose and repair it quickly and professionally. Gas or electric, we can fix it! We service most major brands of ovens including: Whirlpool, Frigidaire, GE, and Kitchen Aid; plus many more.
* WARNING – If you smell gas please call the gas company immediately and have them check for leaks. Your safety is our top priority! *
Here are a few common oven problems that AABCO Service Appliance Repair fixes:
• Repair or replace defective wiring in your GE oven
• The heating element in your Kenmore oven has stopped working
• The self-cleaning cycle of your Westinghouse oven has stopped working
• Your Whirlpool Oven bakes unevenly
• The broiling element on your oven is not working correctly
• The timer on your oven is not working
• Your Frigidaire oven has completely broken down and is unusable
All of these issues can be repaired quickly and affordably by our trained technicians in the convenience of your home. Call us at (480) 983-7675 to schedule a service call today.
Don't forget that maintaining your appliances can save you money. Visit our Home Appliance Maintenance Tips to learn how to keep your appliances running smoothly.