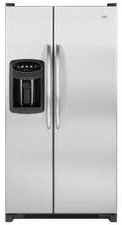 Is your refrigerator Broken? Don't throw it away, let AABCO Service Appliance Repair fix your refrigerator at a fraction of the cost of the purchase of a brand-new fridge! Need it now? No problem.  We offer quick same day service for most areas. Call us at (480) 983 – 7675 to schedule your service today. We know that you depend on your refrigerator day-in and day-out to meet your family's needs, so you can depend on us to get the job done fast and right. Our highly qualified technicians will come to your door promptly and provide you with the finest quality repair and the best customer service.  We repair all makes and models, including: General Electric (GE), Maytag, Amana, Kenmore, Jenn-air, Hot Point, Whirlpool, and many others.
When your refrigerator stops working we know how devastating that can be.  Your food can spoil, wasting your time and money and causing you quite a bit of aggravation; so don't forget to read our Refrigerator Maintenance Tips to help keep your refrigerator running smoothly and save you from the costs of repair.
AABCO Service Appliance Repair has been serving the refrigerator repair needs of clients since 1967. We offer Refrigerator Repair Services and Emergency Refrigerator Repair Services in a great many cities, including: Mesa, Tempe, Gilbert, Chandler, Gold Canyon, Apache Junction, Queen Creek, Sun Lakes, and the San Tan Valley. Call us at (480) 983 – 7675 to schedule a service call in your area.