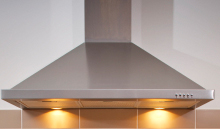 Does your kitchen fill up with smoke when you cook? Are your kids tired of hearing the smoke alarm go off at every dinner? Then it's probably time you called AABCO Service Appliance Repair to come out and fix your range hood. Our experienced technicians are fully qualified to repair most major brands of range hoods, including but not limited to, GE, Kenmore, and Whirlpool.
Here are a few common range hood problems that AABCO Service Appliance Repair fixes:
• Smoke filling your kitchen while cooking
• The fan on your GE range hood stops working
• The speed control on your Kenmore range hood is set to one speed only
• The lamp on your Whirlpool hood has burnt out
• You can hear the fan working on your range hood but the fumes are not being sucked outside
• Your range hood has stopped working completely
All of these issues can be repaired quickly and easily by our trained technicians in the convenience of your home. Call us at (480) 983-7675 to schedule a service call today.
Don't forget that maintaining your appliances can save you money. Visit our Home Appliance Maintenance Tips to learn how to keep your appliances running smoothly.