How do I clean my refrigerator coils?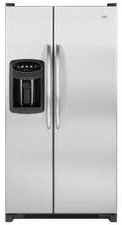 To keep your refrigerator running well, you should clean its condenser coils at least two times a year, unless the coils are on the back. Pull out the fridge and unplug it; turn off the breaker if it is a built-in. Remove the cover panel to reveal the coils underneath. Clean out all of the dust and debris, being careful not to bend anything or be too rough. You can simply use the narrow end of a vacuum or a refrigerator brush. Replace the cover when through, plug it back in and turn on your breaker.
Do you have refrigerator problems? Let us help! AABCO Service Appliance Repair has been providing quality Refrigerator Repair Services since 1967. Call us at (480) 983 – 7675 to schedule service today!